It is almost time for Pongal, Tamil Nadu's biggest festival, and a celebration that was once primarily focused on farmers, farming, livestock and family, has gradually factored in a new addition — films.
Like every year, 2018 also sees quite a few releases lined up for the festive season. It is a heady mix of movies ranging from ones headlined by big names to ones who believe this year's Pongal will propel them into the big league.
Gone are the days when Pongal was only seen as a village-centric festival celebrating the farmers who toil hard to get food on our tables. Pongal has now become synonymous with Tamil pride cutting across the urban-rural divide and a box-office winner during these times guarantees the longevity of the stars and technicians involved.
Among the five movies scheduled for release, the two biggies are Thaanaa Serndha Kootam and Sketch.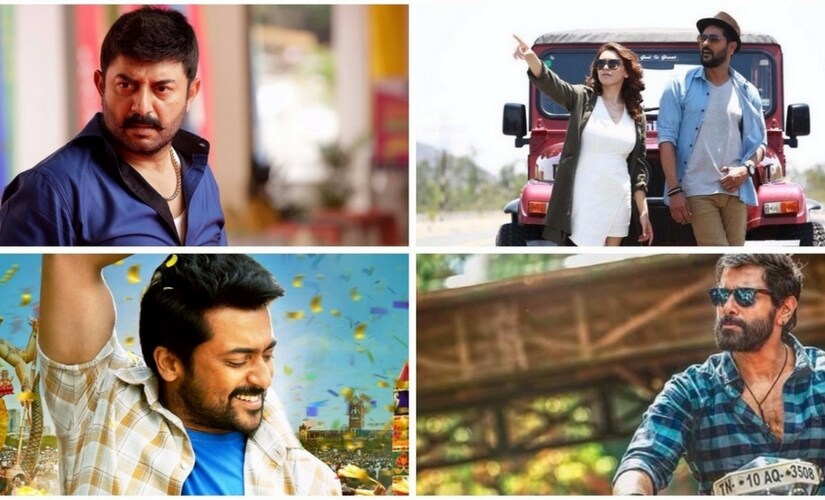 'Chiyaan' Vikram, who sees his Vijay Chander-directed Sketch release this Friday, has seen a couple of his big ticket releases including Shankar's magnum opus I and Lingusamy-directed Bheema being a part of the Pongal releases in 2015 and 2008 with mixed fortunes at the box office.
Thaana Serndha Kootam, directed by Vignesh Shivan and starring a bevy of stars led by Suriya, is the other biggie that will hit the screens on 12 January.
In his 21-year-old career, this will be only his second Pongal release and his first one since he established himself as a major star in Tamil Cinema. This comes as a surprise considering how some of the biggest names of Kodambakkam have had their marquee films release in the long Pongal holidays.
Let us have a look at the various Pongals from across the years that helped this five-day holiday develop an aura that sees actors clamouring for a release during the all-important season that has seen actors become stars, stars become matinee idols and matinee idols become demi-gods.
Pongal 1995
Rajinikanth has transcended the known boundaries of superstardom and is now on the cusp of venturing into his long-awaited stint in politics. This entry into the political fray stemmed from the fact that in 1995, he starred in a blockbuster that not only cemented his status as demi-god in the eyes of his ardent fans but also created a political stir that has kept him in good stead to date.
There are many people including the superstar himself who said, "I said no to the seat of power when I was 45 years old. Do you think I'll want it when I am 68?" referring to 1995 as the watershed year for his political career that was in hibernation since 1995 till 31 December, 2017.
The movie that not just changed the career graph of Rajinikanth but is also on the verge of altering the political climate of Tamil Nadu.
The movie, that made the superstar a demi-god, released on 14 January, 1995.
The Suresh Krissna directed 1995 blockbuster — Baassha.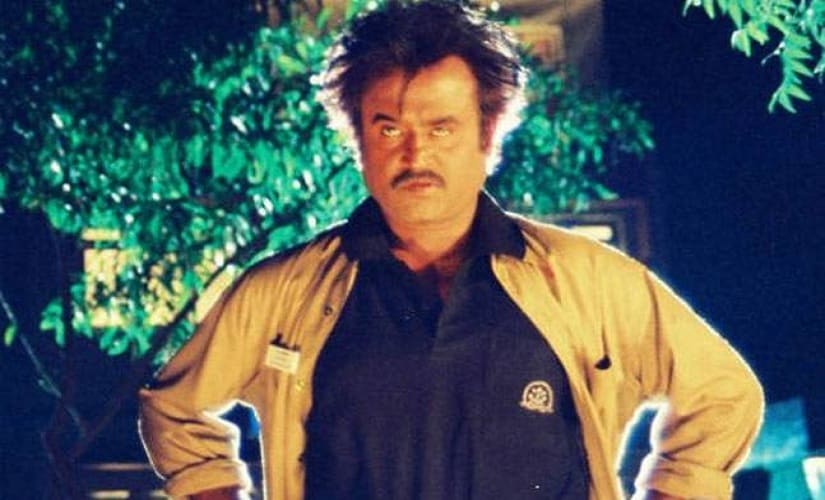 Pongal 2001
Every male actor in Tamil cinema wanting to announce his entry into superstardom chooses an action movie to do so.
After a string of successes that established him as the boy-next-door and an actor who was more often than not cast in the stereotypical "chocolate boy" role, Ajith Kumar needed a movie that worked with the masses and was less of a movie and more of a star vehicle.
It was then that Ajith decided to do a movie with a debutant director, AR Murugadoss, who would then go on to become a household name across the country.
The movie not just skyrocketed Ajith into superstardom, but also gave him a moniker that has been a major factor in making him the humongous star that he is today.
The movie that transformed the "Ultimate Star" Ajith into "Thala" Ajith released on 14 January, 2001.
The AR Murugadoss-directed 2001 blockbuster — Dheena.
Pongal 2004
For years, most of the Pongal releases headlined by big stars of that time were not set in a rural milieu. The movies never quite captured the essence of the festival. The releases still raked in the money but the 'Tamilness' was missing.
It all changed when Kamal Haasan decided to make a certain movie that he first titled Sandiyar. The movie then ran into hot water when certain politically charged protests were held against the movie's title accusing it of having the possibility to stoke caste-based issues in the state.
The film, that dealt with capital punishment, also had scenes that depicted and even celebrated the sport of Jallikattu, a sport that was central to any Pongal celebration and came into national prominence following the state-wide protests in Tamil Nadu last year.
The rural backdrop in the movie connected with audiences across the state making it the first Kamal Haasan directorial venture in Tamil to be a box-office success. The rustic and earthy approach in the movie, with one of the biggest stars of Tamil or rather Indian cinema, sowed the seeds for the belief that rural-centric subjects, when dealt with integrity and sound film-making, will get enough eyeballs from the urban audience too.
The movie, to an extent, started the trend of Kamal Haasan movies running into some sort of controversy before their release. The movie showed to the world the kind of publicity gained when there is curbing of the freedom of expression of a filmmaker.
The movie that established the credentials of a director in Kamal Haasan released on 14 January, 2004.
The Kamal Haasan-directed 2004 blockbuster — Virumaandi.
Pongal 2007
When an actor is oscillating between delivering hits and flops, there comes a movie that decides the direction of his career graph.
While a blockbuster success ensures the cushioning for forthcoming flops, a disastrous showing at the box-office leaves the forthcoming successes with the overarching burden of shaking off the above mentioned flop.
From 2007 to 2011, Vijay's movies mostly received a cold shoulder from the masses and critics. The trend did change but it was only in 2012 that he managed to give the all-encompassing blockbuster, the type that spawns remakes across languages.
Vijay, who probably now commands a fan following second only to Rajinikanth, managed to sail through that tumultuous period from 2007-12 riding on his 2007 Pongal release.
This torrid run not only saw his movies failing to set the cash registers ringing but also running into problems with certain political circles who hoped to counteract a then widespread idea of Vijay joining politics.
The 2007 Pongal movie guaranteed Vijay an evergrowing and unwavering fan following. A following that gave him the cushioning he needed to withstand those heavy blows.
The movie that gave rise to fans who saw Vijay as a messiah.
The movie that kept Vijay afloat during his most trying times as an actor in Tamil Cinema released on 12 January, 2007.
The Prabhu Deva-directed blockbuster — Pokkiri.
Pongal 2011
Dhanush is one of the very few actors from the South who has captured the attention and adulation of fans from across the country. Fighting criticism about his physical appearance right through his career, the lanky actor relied on his acting chops to slowly carve a niche for himself.
After his initial couple of movies, Dhanush was typecast into playing the different variations of the same role across various genres — a wastrel either in a town or a city.
Gradually, he began to establish his acting credentials in movies that were off the beaten track and were also becoming commercial successes. However, Dhanush, who looked like a quintessential Tamil guy from the hinterland, never quite made a completely earthy movie devoid of an inkling of grandeur or over-the-top moments in an unrealistic set-up.
All that changed with his 2011 Pongal release, that went on to become one of the most critically acclaimed movies of Dhanush.
The movie, about rooster fights prevalent in the southern districts of Tamil Nadu and the intricacies of human emotions, won six National Awards.
The movie that gave credibility to the actor in Dhanush as he won his first National Award for the Best Actor and become just the fifth actor to do so for a Tamil movie.
The movie that paved way for his pan-Indian and even his Hollywood sojourn.
The movie, that made Dhanush carve a niche for himself and pulled him away from the crowd to give him the most sought after tag of 'a star who also acts', released on 14 January, 2011.
The Vetrimaaran-directed hit — Aadukalam.
Other stars who have had their careers take a major turnaround during the festive season of Pongal include Sathyaraj whose 1994 release Amaidhipadai is widely considered to be one of the best political satires to have been ever made in Tamil Cinema. Even actor-turned-politician Vijayakanth reaped rich rewards with his various Pongal releases across the years and his son Shanmugapandian would hope to emulate his father's success in his first festive release, Madura Veeran, releasing this Friday.
Gulebagavali, one other movie releasing this week, stars Prabhu Deva who has had a mixed bag with his share of Pongal releases.  The dancing star has seen both dizzying heights of success and extremely steep downslides both as an actor and a director.
Arvind Swamy, who plays the solo lead in a movie after close to 18 years in Bhaskar Oru Rascal, will hope his Pongal stars continue to shine as bright as they did in his 1997 blockbuster Minsara Kanavu.
It is a five-horse race on Friday and all eyes will be trained to see who emerges as the winner of Pongal 2018 and continue the famed legacy associated with its releases.
Published Date: Jan 09, 2018 12:42 PM | Updated Date: Jan 09, 2018 12:42 PM