Jai Lava Kusa is one of the most awaited films in the recent times. This film is extra special because NTR is playing triples roles for the very first time. Directed by Bobby, this prestigious film produced by NTR Arts has hit the screens today. Let's see how it is.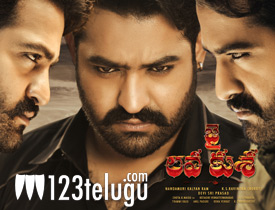 Release date : September 21, 2017
123telugu.com Rating : 3.25/5
Director : K. S. Ravindra (Bobby)
Producer : Nandamuri Kalyan Ram
Music Director : Devi Sri Prasad
Starring : NTR, Raashi Khanna, Nivetha Thomas
Story :-
Jai Lava Kusa(NTR) are triplets who get separated during their childhood because of small clashes. While Jai becomes an evil blooded criminal, the other two, Kusa and Lava end up as a small-time crook and bank manager respectively. The twist in the tale arises when Jai kidnaps both the brothers and aks them to help him in his political growth. What is Jai's agenda? Why did he kidnap the brothers? How can the innocent Lava and Kusa manage the criminal Jai? To know answers to all these questions, you need to watch the film on the big screen.
Plus Points :-
Jai Lava Kusa clicks mainly because of NTR. The star hero just nails the film with his performance. He is super menacing as the evil Jai and showcases the subtleness as Lava and is knotty as Kusa. The way he has showcased variations in all his roles is surely worth a mention and proves what an actor he is. Special mention should go to the way he executes his stammering act.
The emotional thread showcased between the two brothers has been executed well during the last ten minutes. Raashi Khanna looks ravishing and plays her role well. The fights and thrills composed look top class and evoke a lot of clap worthy moments.
The climax is very interesting as the film ends on an emotional note. Ronit Roy makes a decent Tollywood and Sai Kumar does justice to his role. Posani is okay so were Praveen and Brahmaji. The first half has some fun moments whereas the second part gets a bit serious.
Minus Points :-
The story of the film is quite predictable and after a point, you know what is going to happen next. Devi Sri Prasad's music is not up to the mark as some more good songs could have easily helped matters much.
The film has a roller coaster feel as good and bad moments keep coming in one after the other. Heroines Raashi Khanna and Nivetha Thomas do not much to do and Nivetha's role, in particular, has not motto and looks outright silly. The emotional bonding between the brothers is showcased in only a few areas.
Technical Aspects :-
Credit should go to NTR Arts for not compromising on the budget. The film looks quite rich as the visuals are quite pleasing. Camerawork by Chota K Naidu is top notch and especially those scenes which showcase NTR in a triple role quite realistic. DSP's music is just about okay but his background score is amazing. Choreography for item song is done well as Tamannah's dance steps are quite massy and evoke glamour. Dialogues have been written supremely well and those written for the stammering part are even good.
Coming to the director Bobby, he has done an okay job with the film. He has written Jai's role well but you never get the feel of brotherly bonding except for the climax. The film is good scenes wise but when you club it as a whole, there are many loopholes. Credit should go to him for showcasing NTR in a splendid manner.
Verdict :-
On the whole, Jai Lava Kusa is NTR's one-man show. The film is surely a treat for fans as they will love Jai's negative role in particular. Even though the film has an old school storyline and slow narration in places, the way it has been showcased ends up as a good watch for fans and ends up as an average watch for the regular audience. All we suggest you is to lower your expectations before you watch the film.
Rating : 3.25/5